Oprahs Final Show - The Stars Lined Up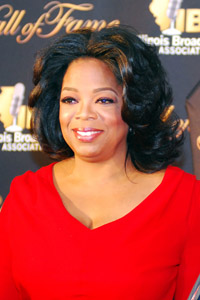 After 25 years on air, an arguably one of the most powerful women in the world, Oprah Winfrey this week began to wind down her famous talk show, with a series of farewell episodes. The stars lined up to be a part of the final shows.
In contrast to Oprahs famous generosity and surprising her audience with gifts and opportunities, a group of famous celebrities including Beyonce, Will Smith, Tome Cruise, Maddonna, and Tom Hanks joined ranks to surprise the talk show queen themselves.
The A-listers walked on stage at the packed United Centre in Chicago, as the talk show queen wiped away tears.
It is tipped that Oprahs next move will be to continue to run her recently launched OWN, Oprah Winfrey Network, which has a series of shows lined up this season.
Oprah also works with her charity, Oprah Winfrey Leadership Academy for Girls in Africa, and O, The Oprah Magazine.