The Gentlemens Cross Trainers - The Jodhpur
Every gentleman should own at least one pair of short boots. they should be made of leather in both sole and upper. They should reflect his ability to be a man of action when required and to be a man of substance regardless. With this in mind, examine the Jodhpur boot.
I am going to make a clear distinction between the Jodhpur and both the paddock and chelsea boots, and we'll examine them both at another time, as they are also both fit to occupy a gentleman's footwear wardrobe. The Jodhpur boot is a descendant of the earlier forms of riding boots, and has evolved into stylish footwear. The Jodhpur is a low, ankle boot that is fastened by strap and buckle. When selecting your Jodhpur I implore you to abstain from any that contain a zipper down the inside. While the zipper makes the boot easy to put on and remove it also cheapens it's appearance and makes the strap and buckle a mere ornament. A gentleman should always be mindful of elements of his dress that contain only ornamentation and have no purpose lest he slip into foppishness.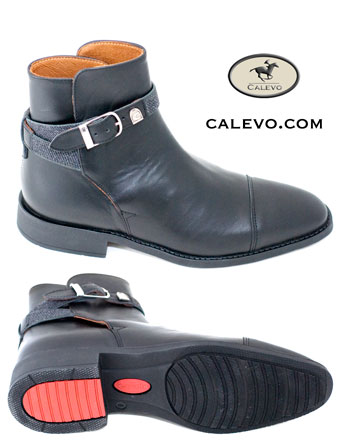 The Jodhpur boot is perfect for formal dress and casual, and most suited to events outdoors. I find them very fit for driving manual vehicles, especially convertibles, and for active social engagements. Adding a pair of Jodhpurs to your outfit lets you move from one activity to another without having to change your footwear. Think of them as a gentleman's cross trainers