La Redonda, a Paradise of Ecotourism in Cuba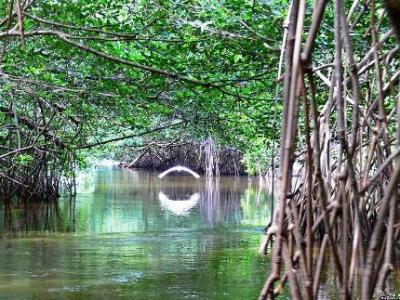 At La Redonda Lake, one of the main attractions at the Jardines del Rey resort, you can rent jet skis, ride on boats, and take in an area with a high level of conservation. The Redonda has restaurant and bar services after the tour if you feel like having a beer or sandwich.
The fresh air welcomes you to a memorable holiday in Cuba. The place is a refuge for many endemic species and migratory birds, including woodpeckers, hummingbirds and blue heron, making it an ideal site for ecotourism. The lush vegetation is very attractive, consisting of mangroves, oaks and palm trees that provide habitat for parasitic plants such as giant ferns and orchids of various kinds. In addition to these natural charms, excellent treatment is provided by the tourist center workers.
Every day more than 300 visitors travel by boat the canals and passageways that surround the natural pond, an area of 26 square kilometers. According to legend, this site is the lair of one of the most interesting creatures of the Cuban mythology, the guije, a sort of pygmy that usually lives on wetlands.
This natural reservoir was the international center for trout fishing.
It is said that in the eighties a group of American fishermen managed to capture over 5,000 trout in five days. This feat gave this lake international fame and began the celebration of the international championship of trout fishing, until the consequences of the global warming caused the gradual decline of fish, and the total cancellation of the fishing tournament.

Currently the authorities are working on a program of ecological restoration in order to recover the large reserve of trout in La Redonda. The natural pond is on the road going towards Key Coco - one of the main tourist destinations for Cuba holidays - and is considered one of the largest lakes in Cuba. The province, which is located in the central region of the island, has large reserves of underground water and several lakes, among which stands also La Laguna de la Leche (The Lake of Milk).