Paying For It: Currency in Marriage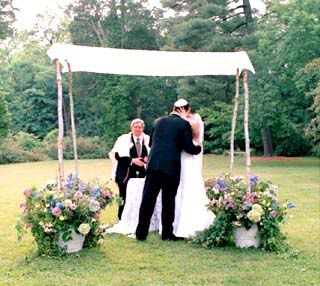 The Wall Street Journal weekend edition launched a new column last Sunday, written by its pop culture reporter, Katherine Rosman. The column, entitled "Checks and Balances," will examine the economics of marriage and families — not only dollars and cents but also other, equally important currencies. Who does which chores? Whose family do you visit at Thanksgiving? What are those decisions worth on the marital balance sheet? Who has "earned" time off from kid duties and laundry with good behavior?

This is a brilliant idea for a column because all marriages, even the happiest and most loving, have complex systems of quid pro quo. Scratch my back and I'll scratch yours. You take out the garbage in the rain and I'll walk the dog in the snow.
The currency of a marriage depends at least in part on whether both partners are employed or whether one is a full-time parent. When both partners are employed and earn income, then it is logical to expect both to take care of the children and perform household chores when not at work. The division may not be 50-50, depending on whether one partner has a more demanding job, earns more money or simply because of stereotypical ideas about men's and women's roles. But at the very least, when both partners work outside the home, neither is designated as the one responsibile for the work at home. And that means both are potentially on the hook.
So, for example, when a child gets sick and cannot go to school or daycare, employed parents have to negotiate who will stay home. Does it depend on who had the busier day planned? On who stayed home last time? Or on which one is better with the sick kid?
That calculus changes, however, when one partner — and let us be frank, that partner is usually the woman — is not employed and is a homemaker or stay-at-home parent. Fewer things have to be negotiated in that case because there is one partner who has agreed to take on the lion's share of the household chores. But how can that partner make sure that his or her contribution is valued fairly?
Continued on the next page